Latest news
Contact us
ADD: No. 198, Industrial Avenue, Dayi County,Chengdu,Sichuan,China
TEL: 86-28-88222970
FAX: 86-28-88221336
E-mail: alan.tyco@gmail.com

> Branch Off Clip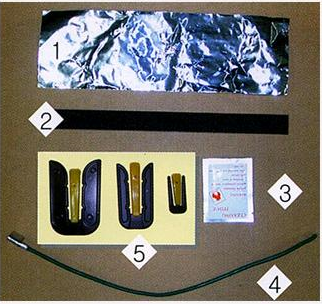 Branch Off Kit-BOKT
Product description: Branch Off Kit-BOKT include branch off clip,Aluminum tape,Sand paper ,Cleaning tissue,Grounding wire for heat shrinkable closures.
Product introduction
Branch Off Kits-branch off clips for heat shrinkable joint closure system
Branch Off Kits Description:

Branch off kits are designed for branching cables of heat shrinkable closures. The three types of Branching kits (BOKT) cover all sizes of cables. Three-finger construction helps in perfect branching and reliable sealing, as the middle finger is coated with hot melt adhesive. It is supplied in kit form with all necessary components for branching.
One Branching kit (BOKT) is required for branching two cables at one end.
Branch Off Kits Accessories:
Aluminum tape

Sand paper

Cleaning tissue

Grounding wire

Branch off clip(Large, Medium, Small)
It protects the connecting part in safety and is applied easily to the outer diameter of various telecommunication cables because of superior shrinkage ratio.

Valve of Pressurized type is convenient when filling or measuring gas.

It can bear up well against Gasoline, Acid and Alkali and also prevents the water penetration.

Best quality, long lasting and resistibility against impact.

According to the step of installation, the White Line at the sleeve rail will be disclosed and because thermo sensitive paint is spread on the sleeve, the color is changed as the temperature.
Application Table per Cable Sizes.
Wire / Pairs Dia.

0.4mm

0.5mm

0.65mm

0.9mm

25

43/10-200

43/10-200

43/10-200

43/10-200

50

62/15-350

62/15-350

75

62/15-350

62/15-350

100

62/15-500

62/15-500

200

62/15-500

62/15-500

92/30-500

300

92/30-500

400

92/30-500

92/30-500

122/38-500

600

122/38-500

160/55-500

900

122/38-500

122/38-500

160/55-500

200/65-500

1200

1500

160/55-500

200/65-500

1800

160/55-500

2100

200/65-500

2400

2700

200/65-500

3000

3200

3600